Make the Most of our Summer Sale!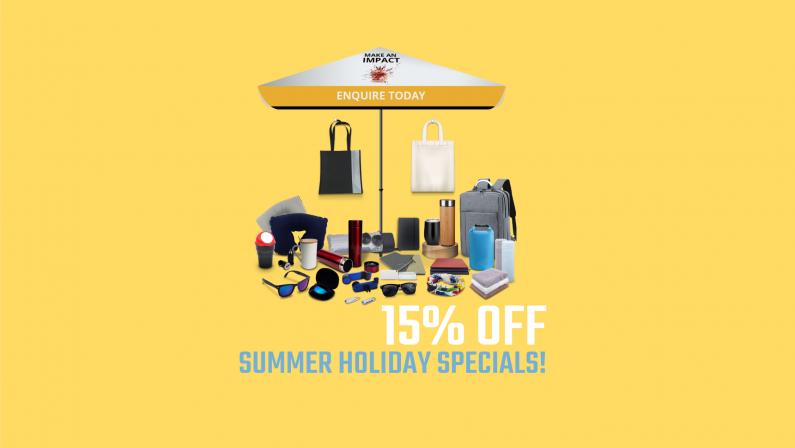 Our Summer Sale is here!
In case you haven't heard, we've dropped some prices for summer! It's been a tough year, but we think it's on the up, and what better way to celebrate than with a big summer sale? We are offering 15% off a bunch of products that will be put to good use over the silly season and into the new year. We're so full of Christmas cheer that we decided to run this sale through to the end of January so you can reap the benefits into the new year. 
The products on sale include any and all of our notebooks, and we have quite the selection! From mini pocket-sized to CEO notebooks, you'll find the perfect pad. They're perfect for Christmas gifts or something to write some new year's goals in. Our auto and travel products are on sale, so even though summer trips are looking a bit different this year, we're here to ensure maximum comfort for a holiday road trip with travel pillows, air fresheners, and more!
All of our large selection of bags are on sale, perfect for taking home those Christmas pressies or popping to the beach or the shops this summer. Speaking of the beach, our sunnies and towels are also on sale! And whether you're using the towel for the pool or the gym, you need to stay hydrated - we have slashed the price of all of our drinkware too, from travel cups to drink bottles, to your classic mugs. We've also slashed the price of our new branded umbrellas, which will keep out the summer sun and showers at events or for everyday use in outdoor seating areas.
It's a big sale, we know. And sometimes even the best things can be overwhelming. Which is why we're here to give you a few ideas on how to use the sale this season. 
Last minute Christmas sale
We know that last-minute is often the name of the game in our industry, so why not pass on the discount and offer your customers a special on otherwise-forgotten Christmas products and gifts. The sooner the better with this one, you might even jog their memories so you aren't getting panicked calls closer to the big day! Don't forget to leave a few extra days to account for the shipping delays the couriers often experience at this time of year. Who says Santa isn't real? He just drives a delivery van, not a sleigh!
Save some extra cash
Christmas gets exxy really quickly, and the slow season is quickly approaching. Our sale will allow you to save a bit of extra cash in the lead up to the silly season. Promote the products we put on sale at the regular price you sell them for, and just like that, you'll see a bigger markup and more cash in the holiday kitty. It's a Christmas miracle! It's always nice to see some extra cash coming in around the holidays, so put it to good use with a Christmas celebration, the upgrade you've been wanting, or something special for the new year.
Gifts for your top customers
Giving back over this special season is more relevant this year than ever before. If you're anything like us, your top customers have been super important in keeping things turning in 2020. A little token of appreciation and recognition can go a long way for a customer. Pick your top customers and give them a little something to remember you over the silly season. It might be a branded wine cup for those holiday road trips, or a pair of sunnies to take on their beach getaway. Think outside the box!
Surprise your staff
While your top customers did a lot to support your business over the tough COVID times, we would be comfortable taking a guess that your team was absolutely integral in getting you to the end of the year. Give out some pressies this year to your hard working team, you know they deserve it! Maybe it's the perfect cooler bag for a summer picnic, or a fresh notebook for the new year, take the opportunity to say a big thank you with a little something special.