How We're Supporting You Through COVID-19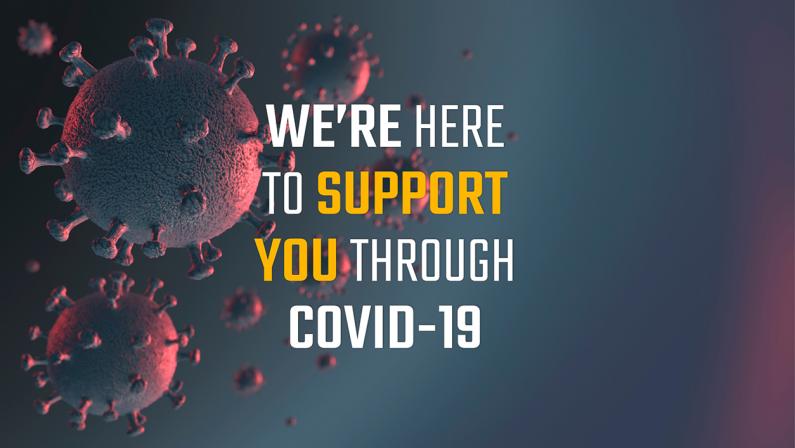 AN UPDATE FROM OUR GM
To all valued IBS Clients,
With the Coronavirus situation continuing to escalate, like most businesses, we are actioning plans to minimise risk of virus spread to ensure the safety and wellbeing of our staff and customers. 
We are encouraging staff to remain calm and not promote panic. Health Department advice is that the CONVID-19 virus is simply a new and virulent flu strain, for which most people exposed will have normal flu like symptoms. That said, we are acutely aware of the dangers faced to those at highest risk of contracting the virus and have therefore implemented the appropriate measures around our workplace to ensure we reduce the risk of virus spread where possible.
As part of our potential crisis management planning there were some points raised that we thought were worthwhile sharing; 
Supply Lines - At this stage, our suppliers and partners overseas are all trading normally and we have plenty of hardware and media on hand in our local factory to continue to meet ongoing demand.  Unless, by some miracle, you start to get a rush on Banner Flags to the magnitude that there has been on toilet paper, we are confident that we will be able to provide you and your customers with all of your customised printing needs well into the foreseeable future. We have a full range of marketing material, signage, display equipment, promotional products and soon to be released, apparel. So even if we are not your primary supplier in all of these areas, we can provide you with a backup supply chain if you get into any trouble
Turnarounds – We are extremely proud of our reputation in the industry for consistently delivering your jobs on time, every time. On average, less than one in every one hundred orders in our system fail to meet our estimated dispatch dates which is just one of many points of difference. However, to make sure you are also getting the best possible pricing we run a lean manufacturing team. We are encouraging our staff to self isolate if they show any symptoms of the virus. So we could be under pressure to maintain delivery timeframe targets if a significant portion of our floor staff were simultaneously unable to turn up to work. Should this situation eventuate, we would be asking for your patience and understanding to get jobs out as quickly as possible. I can't imagine any other supplier would be in any different position. Therefore, it is our advice that in your own crisis management planning you make sure you allow plenty of time for orders to be fulfilled and set expectations of potential delays with your customers early.  We understand that everyone wants everything yesterday, but managing the expectations of your customers by requiring them to provide enough time (with contingencies) to get work delivered in time for any deadline is honestly the best way to solve a potential problem….. before it occurs.
Customer Service – We are also proud of our amazing customer service team and their dedication to looking after our clients needs. In particular we consistently receive positive feedback on our industry leading Live Chat Support functionality. Obviously Tom Hanks can't phone in his performance for the Elvis Biopic from his isolation ward, but we are lucky that potentially self isolated customer service staff who were relatively symptom free could easily support our existing remote Live Chat Operators from their own homes. We see Live Chat and email support as our fall back position to our local telephone support should it be required. If you have not used the Live Chat function in the IBS portal I would highly encourage you try it out as it really is one of the best ways to engage directly with our team to answer your questions quickly and effectively.
 What we have learnt from going through our risk management plans at IBS is that like everyone else, we rely heavily on our people. It's all very well having fancy automated systems and equipment redundancy plans, but you will always need someone in place to manage and operate your business effectively. We are lucky to be able to spread our HR and manufacturing risk over multiple trusted backup supply partners in multiple countries, but realise that this is not the case for every business.
So what we want you to know, is that whatever happens to you and your team, we have got your back. We know that as a trade only supplier, we are only as successful as our clients. This means that during our own planning process we have also focussed on how we can best support you in times when you may need more help than usual. Whether it is the effects of coronavirus or any personal crisis you may be encountering, we genuinely see ourselves as a partner to your business rather than just a supplier and want you to feel like you can lean on us like you would any business partner with a vested interest in your success.  Just some of the ways we can do this can include;
Trade Only Graphic Design Overload Service – We currently provide trade only online design services for our full range of products starting from around $35 per design with unlimited revisions. We have decided to bring forward a planned sale in April on these services and starting later this week will be offering you a limited time deal of $10 plus GST to design any product in our range.  If you or your design staff or their families are affected by coronavirus in any way, we are hoping that this will support you through your day to day product designs.
Virtual Assistant Services – IBS employs a growing proportion of our staff to work remotely and currently have staff working from home in Australia as well as various IT and support staff in India and the Philippines. With the considerable experience we have gained in this area, we can also offer the services of fulltime or contracted outsourced Virtual Assistants to help you if your needs become a little larger than just a design job here and there. Whether it be a fulltime dedicated graphic designer, a part time bookkeeper, or just casual admin support needed to help you through a period of being short staffed we can help. You may be surprised with how cost effective this can be for your business with a fulltime managed staff member, recruited, managed and guaranteed on your behalf for as little as $2,000 per month. Let us know if this is of interest and we can reach out to investigate your needs further.
Marketing Services – In economic downturns one of the first cost centres that usually gets cut is marketing, and whether you are looking to just make some savings, fine tune your strategy to get a better return on investment or want to go all in and take advantage of others pulling back we would be more than happy to help you out. If you are interested in discovering more about our marketing services, please do not hesitate to contact us as we would love to help you where we can.
Production or Machinery alternatives – It surprised us to discover that over 80% of our clients surveyed in 2019 did some type of inhouse production. We know that you will not need us for everything and we are cool with that. But we also understand that having machines go down, or being short staffed for any reason, can put your own production under pressure and that's where we can be our most effective at supporting you.
Strategic Mentorship – Finally, it can be lonely running a business on your own, especially in challenging times such as those we have experienced so far in 2020. It is always good to receive emotional support from friends and family but direct strategic business advice from someone who understands the challenges and nuances of running a business in our industry, especially with the advantage of a having a helicopter view across multiple geographies and niches can never be underestimated. If you are looking for someone with understanding to bounce ideas off, need some specific advice or insight or simply require some general guidance or direction with your business we are always here for you. Any member of our ownership or management team would be more than happy to talk to you. Either Live Chat on our website, Facebook message, call, email, reach out on Linked In or drop in for a coffee. Whatever your preferred means, we would love to hear from you.
For what it's worth, even with the doom and gloom coming from economists and the media at large, the last few weeks have been some of the busiest we have ever had at IBS. As a business we are confidently looking forward and hope that you are experiencing the same overall optimism as we are.
Here's wishing you, your family and all your teams a safe, healthy and happy remainder to the year.